Old Pulteney Bow Wave unveiled for Distillers One of One auction
12.07.23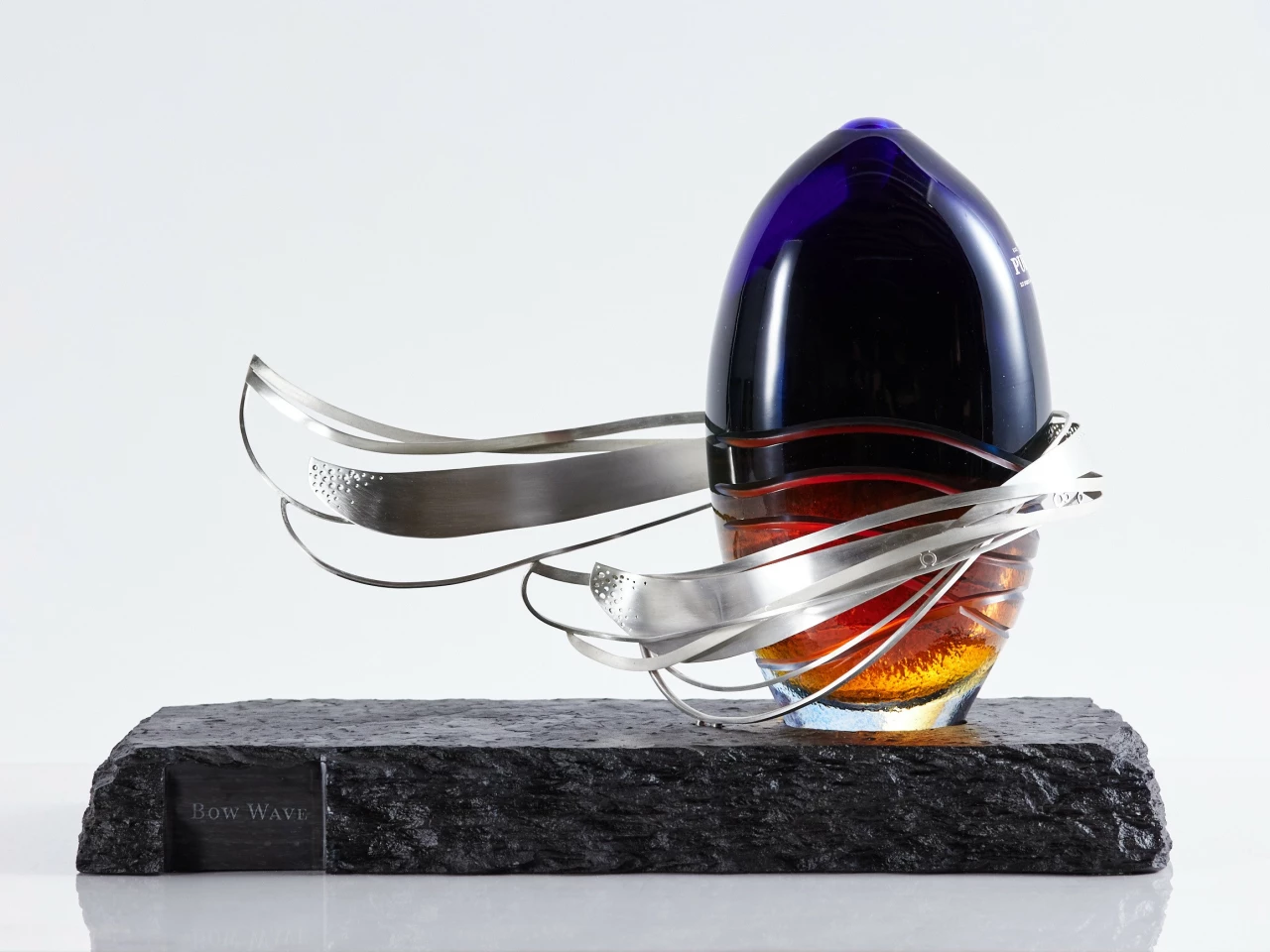 Internaitonal Beverage has unveiled its contribution to the whisky industry's biggest charity auction, bottling its oldest Old Pulteney to date in support of the Youth Action Fund.
Our flagship single malt has unveiled Old Pulteney Bow Wave: a 45 Year Old Single Malt and the oldest expression from the Highland distillery to date – presented in an exquisitely hand-crafted sculpture which represents the movement of a ship through crashing waves.
This never-to-be-repeated masterpiece has been crafted for the biennial Distillers' One of One Auction, which takes place on 5th October 2023 at Hopetoun House near Edinburgh, principally in support of the Youth Action Fund: a charity which is dedicated to transforming the lives of young people in Scotland.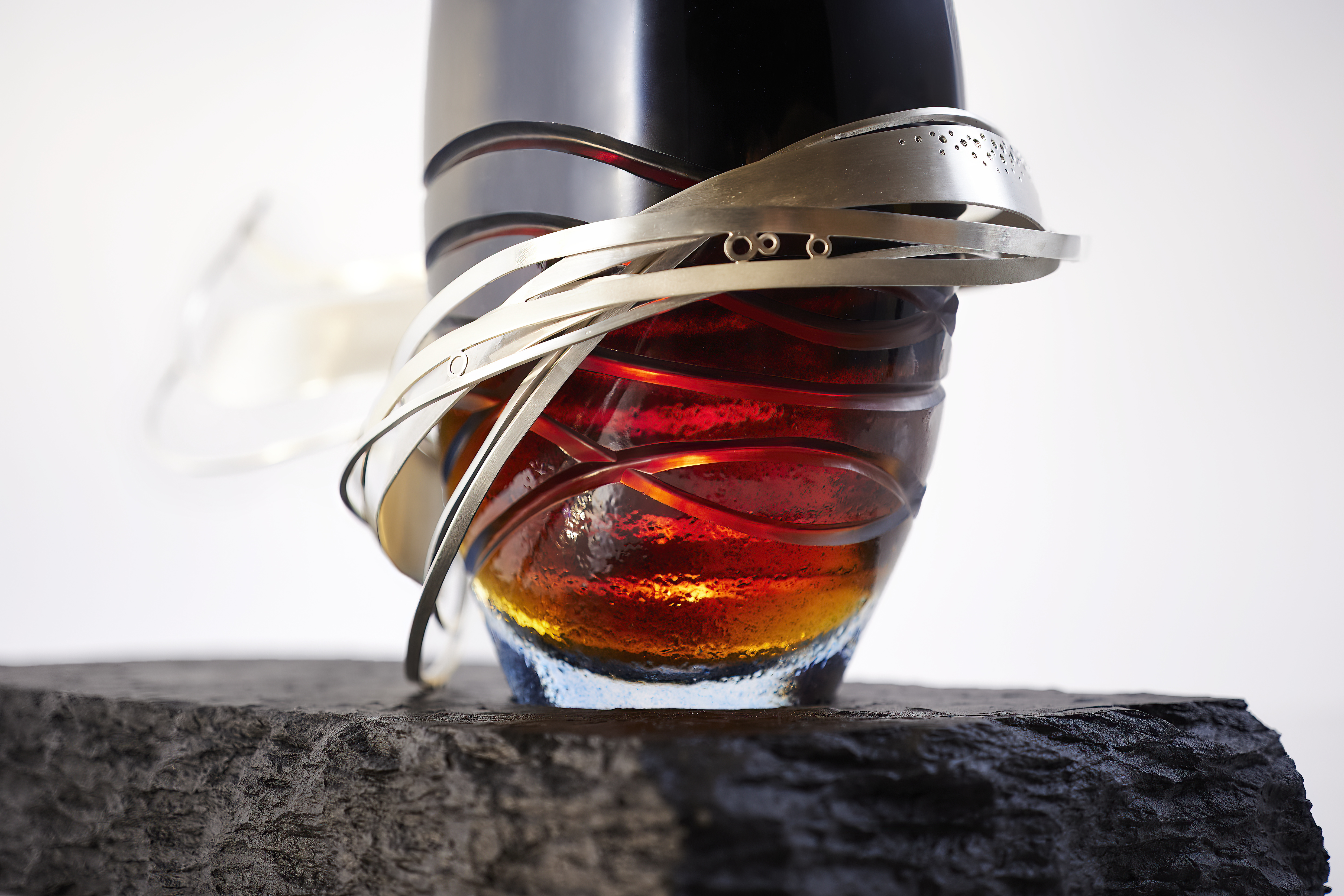 Offering an unprecedented opportunity to own a piece of Old Pulteney's history, this exceptionally rare whisky was matured for more than four decades within hand-selected American oak casks, completing its voyage with a further five years maturation inside a single first-fill Spanish oak butt. As a result, Bow Wave is magnificent in its complexity. Deep golden in colour, it features subtle whispers of sea spray entwined with the sweetness of honey, with delicate notes of aged oak and maritime air to tantalise the palate.
The expression is encased within an equally remarkable bottle. Presented upon a bed of Caithness slate, the bottle is crafted from hand-blown glass with complex Inciso cuts, mirroring the essence of crashing waves. The deep blue hue of the bottle encapsulates the sea's endless depths, while glimpses of the golden liquid shine through like reflections of a morning sunrise. Surrounding the glass, beautifully crafted Scottish silverware fashioned by local Silversmith, Lucy Woodley encircles the finished vessel in all its splendour. The hidden cork, accessed only by a bespoke anchor key created by Glasstorm, beckons the senses, evoking the timeless rhythm of the sea.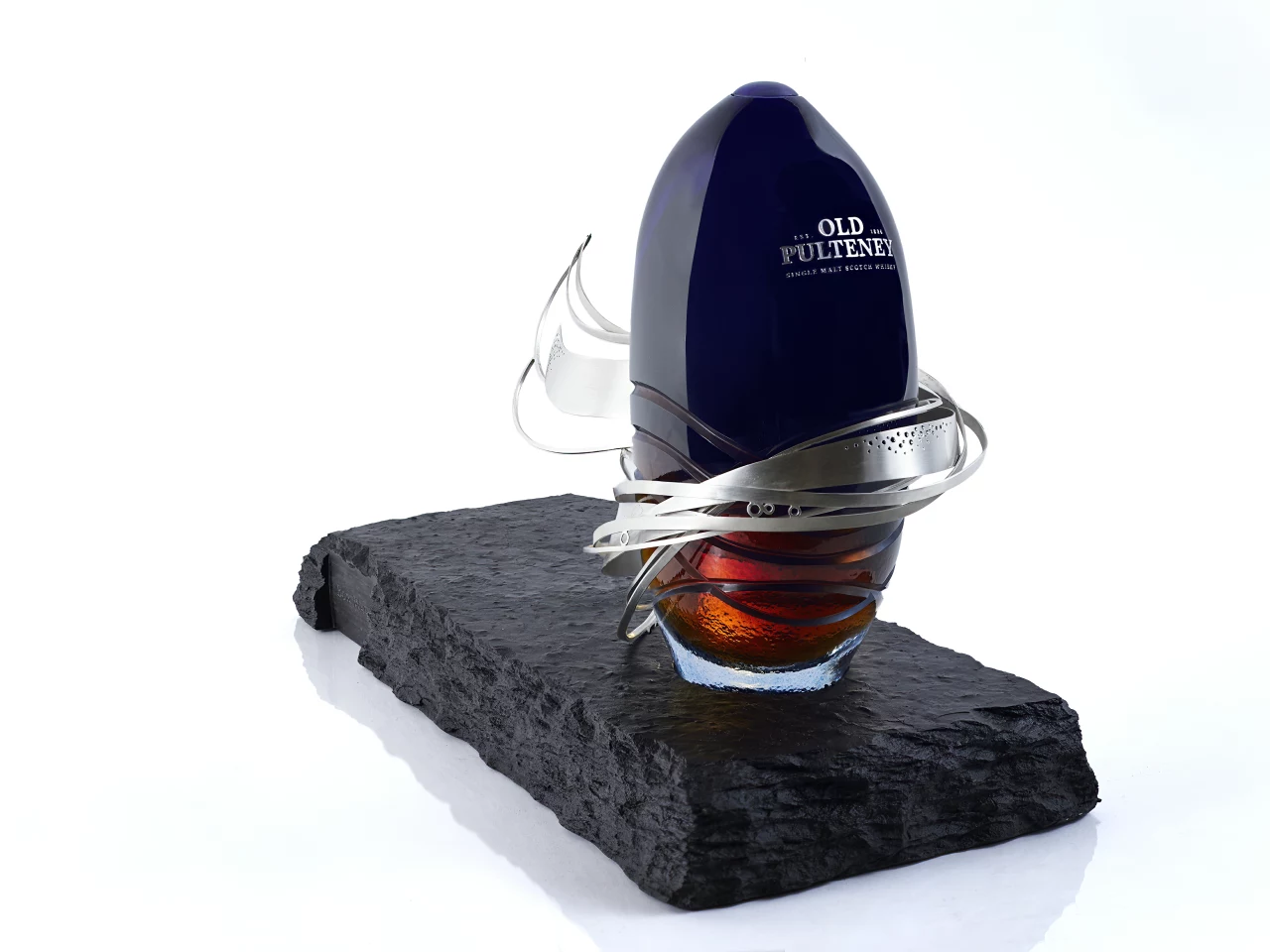 The Distillers One of One Auction is run by the Distillers' Charity and Sotheby's. Ultra-rare and unique Scotch whiskies go under the hammer in front of a globally audience, and following the inaugural event in 2021, nearly 500 disadvantaged young people from across Scotland have benefited from the £2.4 million raised. More than half of these young people have already gone on to secure employment, apprenticeships, further education, training, or work as volunteers.
International Beverage Global Marketing Director Cara Chambers said:
"This is an exciting day for everyone at International Beverage as we unveil Old Pulteney Bow Wave, which has been many months in the making. Our teams are always busy with charity initiatives, from local fundraisers to bigger partnerships that make a difference in our communities and support the causes that matter most to our people. Our contribution to supporting the Youth Action Fund at this year's Distillers One of One Charity continues this company-wide commitment. Bow Wave is such a unique and special bottling, the likes of which no-one in our business has seen before. It's a slice of Pulteney history, bringing together outstanding craftsmanship and a whisky that is a true treasure. We're proud to be sending it off on its journey to Hopetoun House, and to play our part in raising vital funds and creating opportunities for hundreds of young people in Scotland."
Renowned whisky expert and award-winning writer, Dave Broom praised Bow Wave's remarkable taste:
"Glowing amber. Refined, clearly mature, yet still fresh. There's hints of dried pineapple, a slight wax polish, then scented sandalwood and myrrh with a hint of austerity behind. In time, there's oxidised nutty notes, then leather oils which stray towards varnish. Complex and fascinating. The palate is quite a contrast. It starts with a silky, almost slippery, highly-concentrated sweetness, then an incredible burst of bright fruits like captured sunlight. The tongue-clinging quality shifts in the middle of the tongue as some of the famed minerality comes in, working in tandem with touches of drier wood. Then it seems to exhale and the softness returns. Now the full complexity is revealed, supple tannins, mature oxidised fruits, rosehip, and stewed rhubarb. There's a tiny bitter touch on the end before the dried pineapple returns, this time beside preserved lemon. It's not finished though, as after you've swallowed an almost pillowy softness returns. Remarkable."